Today I'm introducing the author of the Evergreen series:
Who are you?! Where are you from?
I am indie author Amelia Keldan from Adelaide, South Australia.
What book(s) have you written?
I am the author of the Evergreen Series:
Evergreen Avenue – Book One 1970s
Evergreen Park – Book Two 1980s
Evergreen Shade – Book Three 1990s
Evergreen House – Book Four 2000s
All four novels are now available as a boxset:
Evergreen Years – The Complete Series
What is the title of your most recent book and how did it come to be named?
Evergreen Years is my latest release and the title is a nod to the beautiful trees that populate the Adelaide Hills.
What does the cover look like?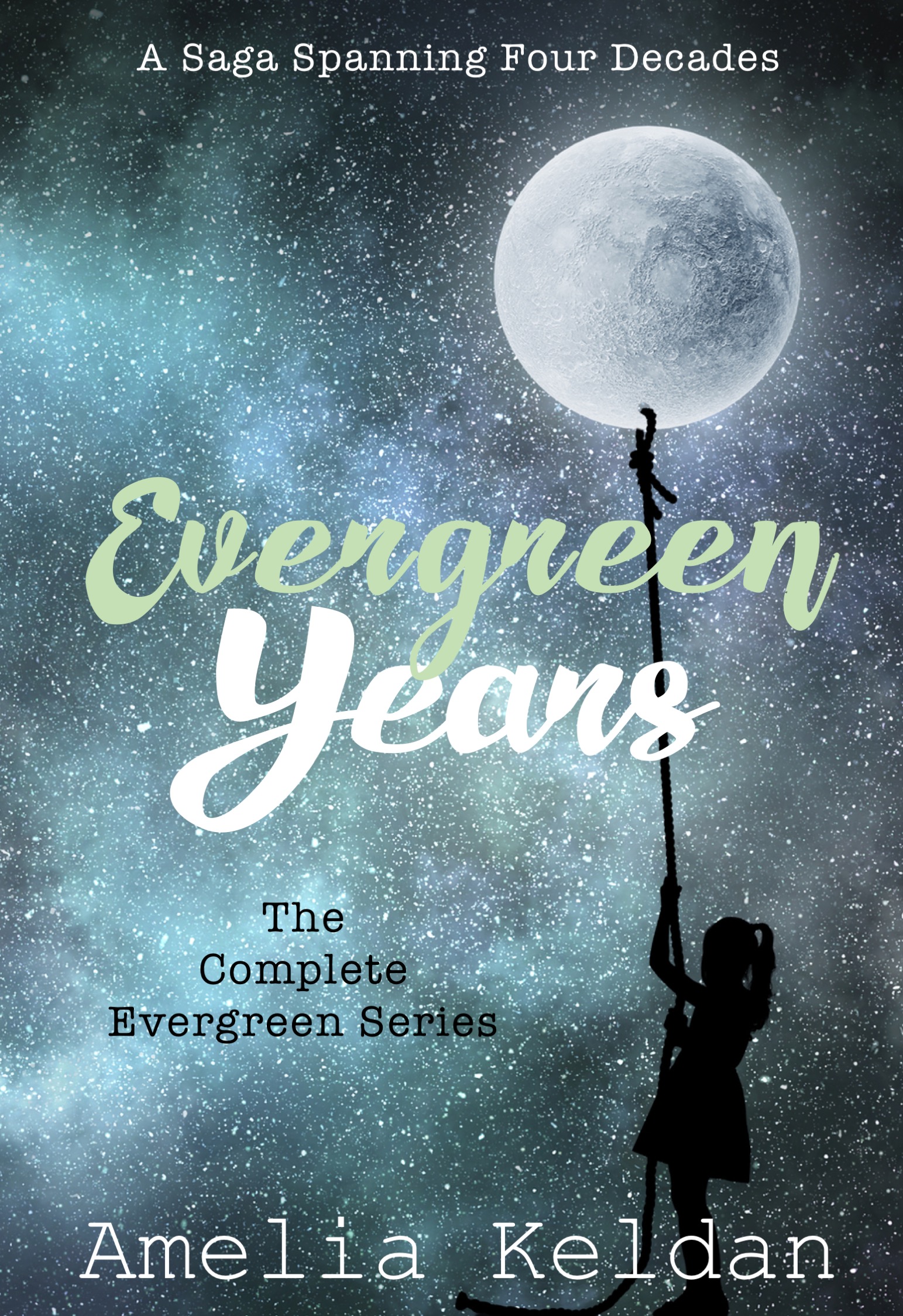 Describe the book in 5 words. 
Familial, Nostalgic, Angst-Ridden, Dramatic, Mystical
What genre(s) do you think it fits into or breaks?
Women's Fiction with a slight supernatural element.
What's the synopsis for the book?
Tildy McVee, at only six-years-old, has an extraordinary talent for reading people.
The heavy burden of this 'gift' comes to a head one Summer, as her family struggle to try find their way through the free-wheeling decade of the 1970s.
Secrets are revealed, loyalties are tested and no one is prepared for the eventual fallout.
As Tildy gets older, the aftershocks of these events continue to ricochet through the tumultuous 80s, the self-conscious 90s and the beginning of a new millennium.
Everyone has their part to play in each other's lives – even those who have since crossed over to the other side.
Where can we buy the book?
https://www.amazon.com/dp/B078B9597K https://www.smashwords.com/books/view/768857 
https://itunes.apple.com/us/book/evergreen-years-the-complete-series/id1327028346?mt=11&l=fr&ign-mpt=uo%3D4
What three other books would you use to describe your book?
Everything I never Told You by Celeste Ng
Friend Request by Laura Marshall
A Gift of Magic by Lois Duncan
Why is indie publishing important to you and why do you think it is important to our culture?
The freedom that writers now have, to share their stories without the need of a middle man, is incredibly liberating. The traditional method of sending in a manuscript to a publisher and hoping it gets noticed is no longer our only option. When deciding upon which route to take with my own works, I opted to make it a fun experience. Writing is my passion…and whilst I'd love for it to be the only thing I need to focus on, the truth is, I already have a day job. Being an indie author means I can make my own rules, oversee the whole production and make my own decisions when necessary – adhering to my own self-created deadlines and nobody else's. The rise of the eBook phenomenon and the incredible strides in technology have allowed writers to follow their own path and I find it an incredibly exciting time to be an author.
What indie authors have influenced you and how?
Darcy Conroy – Author of 'As Long As She Lives'. Darcy is an Australian author who by sheer will and determination has achieved great success with her debut novel.
Beatrix Potter's Peter Rabbit was rejected by every Publisher she submitted it to. She eventually self-published her work and it remains a best seller even today.
What are some ways you think gatekeepers in publishing (literary agents, librarians, book bloggers) can help indie authors gain discoverability?
Reviews, reviews, reviews…as a book buyer myself, I admit that I am swayed by a good review.
Your literary character hero?
Ramona Quimby – the pint-sized heroine from Beverly Cleary's Ramona novels. I love her for her fierce determination to always be her imperfect self despite what society expects and the love and loyalty she shows to her family.
What is the book you wish you had written?
Big Little Lies by Liane Moriarty – don't let the hype fool you into feeling sceptical. She deserves all the praise. I watched her success unfold and she most certainly deserves every bit of it.
Your literary crush?
J.K Rowling. She was a single Mum on welfare who turned it all around. I also get a kick out of her social media skills; a middle-aged woman conquering Twitter with incredible wit and biting sarcasm…I just love her.
What is your favorite online resource as an author?
Goodreads – such a wonderful place for both authors and readers. I have discovered so many wonderful books via this website and it is a constant source of inspiration.
How do you feel about authors giving their work away for free?
I feel if it helps in regards to gaining reviews or being discovered, then it's fine. As long as it is always the author's decision.
What are you reading now?
After I'm Gone by Linda Green
What was your favorite book as a child?
I have two: Tales of a Fourth Grade Nothing by Judy Blume and Ramona and her Mother by Beverly Clearly
What was the Illicit book you had to sneak growing up?
Puberty Blues by Kathy Lette – an honest and raw novel about being a teenage girl in 1970s Australia.
What are the books you've read more than once?
I have re-read so many of Harlan Coben's novels. I so love his style of writing and the sarcastic wit of his protagonists.
What music do you write to or find inspiration in?
I've always found inspiration in cinematic and atmospheric music such as Portishead and Bjork.
Whilst writing my stories set in different decades I also enjoyed listening to the music of the era. I uploaded many different artists onto my iPhone but to name just a few there was The Eagles for the 1970s novel, 1980s The Cure, 1990s The Cranberries and a lot of Dido for the 2000s instalment.
What roadblocks did you encounter when publishing your work?
Finding the time to write is a constant challenge and the struggle to attain some visibility within a hugely competitive and saturated industry is incredibly difficult. Gaining reviews to attain some credibility is also tricky as many readers may enjoy a writer's work but not bother leaving a review.
What TV show are you watching now?
This is Us is wonderfully enjoyable. I have a soft-spot for multi-generational dramas that play around with differing time periods (as is made pretty obvious when you look at my own work )
Cat or dog or both person?
I love that cats are independent and secure in their own awesomeness but I adore that dogs are so in love with us!
Alice in Wonderland or Wizard of Oz – and why?
Alice in Wonderland. I often roll a phrase or two inside my mind when struggling with insecurity or feelings of anxiousness.
"Have I gone mad?"
"I'm afraid so. You're entirely bonkers…but I'll tell you a secret…all the best people are."
Coffee or tea or both person?
Tea. Coffee has gotten me through many moments of extreme tiredness but the inevitable crash isn't pleasant.
Print book or eBook or both person?
Both. Print books for the aesthetics of a well-designed book jacket, the smell of its pages and the pleasure I get from holding it in my hands. I've fully embraced eBooks however due to the extreme convenience they offer and the ability to buy a book at 2am. Discovering a new author at any time of the day or night is still such a novelty.
How do you see book culture changing, other than the ways it already has, because of eBooks?
I would hope that the swift convenience and availability of choice will encourage more people to read.
What is your biggest grammatical struggle to overcome in your writing, or what is your most common typo?
Running sentences often happen when I'm on a roll and edit checks have revealed that I sometimes leave out a repeated letter. For example: ocur, admitedly, unatainable. Maybe I'm in too much of a hurry for that extra letter? Thank goodness for spellcheck.
Where can we stalk you? (What are the links to your social media platforms and blog?)
https://www.facebook.com/ameliakeldan/
https://twitter.com/amelia_keldan
https://www.instagram.com/ameliakeldan/
Thank you for sharing about your work and your delightful insights on indie publishing! 
Sponsored content. Learn more about my author interviews here.