As a vegan, I loved getting the heads up about this book.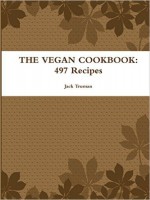 Find it on Smaswords.
A plant-based diet:

Is good for you
Is good for the animals
Is good for the planet

THE VEGAN COOKBOOK: 497 RECIPES is a collection of 497 healthy, mouth-watering plant based recipes free from any animal products. Author Jack Truman, a lifetime vegan and animal rights activist, has compiled a collection of his favorite family plant-based recipes over a lifetime.

Obesity is a growing problem in America. According to science, Animal Agriculture is the leading primary source to Climate Change. Millions of animals are slaughtered by the hour for human consumption. And a meat-centered diet is a major factor in Heart Disease, Cancer, Diabetes and all major diseases.

By adopting a plant-based diet and a vegan lifestyle, individuals can save the lives of animals, save their own lives from obesity and disease, and end Global warming. THE VEGAN COOKBOOK : 497 RECIPES is a healthy, nutritious resource of great recipes, free from any animal products.